EDUCATE: END OF LIFE CARE
End of life care including advance health directives, advance care planning and medical directives are part of the Begin the Conversation education initiative.

Did you know only about one third of adults have advance health directives expressing their end of care life wishes? Even though most people say they want to die at home, few have an advance health directive on record and they rarely talk to others about their end of life care choices.
Below is a list of important words you can use to educate yourself about end of life care before you Begin the Conversation.
Advance Care Planning (ACP)
An ongoing process of conversations between you, your family and loved ones, and your healthcare providers that includes the communication and documentation of your values, beliefs, and wishes for future healthcare treatments. ACP includes all types of care you would or would not want to receive if you are unable to communicate your choices.
Advance Directive
A legal document that states the medical treatments and/or life-sustaining measures you would or would not want should an end-of-life situation occur and you are unable to communicate your choices. It is your written healthcare plan.

Advance Instruction for Mental Health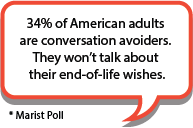 A legal document that tells healthcare providers what types of mental health treatments you want and dont want. Your mental health instructions can be included in this separate document or combined with a Healthcare Power of Attorney or General Power of Attorney.
Decision-Making Ability (Capacity)
The ability to make decisions. A person has the ability and right to make his/her own end of life care decisions unless it is shown he/she cannot understand, communicate, or process information needed to make those decisions.
Do Not Resuscitate Order (DNR)
A medical order obtained through your physician, the DNR indicates you do not want to receive resuscitation attempted if your heart or breathing stops.

Guardian
A guardian is a person who is appointed to act on your behalf if you are unable to make your own end of life care decisions and there are no other people able or available.
Healthcare Power of Attorney
A legal document you prepare that names another person to be your healthcare decision-maker when you are unable to communicate your own choices.
Living Will
A legal document that expresses your choices related to future healthcare treatments and life-sustaining measures at end of life.
MOST/POLST

A national movement, the POLST
(Physicians Orders for Life Sustaining Measures) was started to improve quality of healthcare by translating peoples choices into medical orders. It is the basis for the MOST documents (Medical Orders for Scope of Treatment) and includes communication between you, your decision-making agents, and your healthcare providers.
Revoke/Revocation
To put an end to or discontinue an advance care planning document. Revocation processes can include destroying the forms or creating a new form. If you do revoke an ACP document, it should be communicated to your healthcare agents and providers.
Surrogate/Proxy
A person with the ability and authority to make healthcare-related decisions on your behalf. This person could be your next of kin, an appointed representative, or your Healthcare Power of Attorney (if the form is in place).